candle-making my way to a cento fine foods sponsorship
i took an afternoon off of work last week to make up for working on an office holiday – typical for hot, smart babes whose job it is to support their users. with a new set of candlescience fragrance oils delivered, i ate a chewable (legal) and tried to see how many candles i could make before it hit.
i may not have blogged about making candles in several months, but don't let that create ASSUMPTIONS that i have not been melting wax all this time. this afternoon's session was special: i have been saving this old-branding vegenaise jar. the grapeseed oil vegenaise comes with a purple lid and that's why i get it over the other options. andy finds this very cute, so i'm sharing it with you so that you also feel that way.
i had grown quite an inventory of empty jars from cento fine foods' collection of condiments, and it was time to upcycle them. look at how delicious and nuclear the colors look when melted!
a tin mug i got at xoxo in 2018 had become rusty recently, so i figured i'd make a candle with it too. i also had a maraschino cherries jar left from a maraschino cherry phase i was going through a couple of months ago.
shouts out to pumagreg for being a good, soft, curious, and not-getting-in-my-way boy that entire session - sincerely! a funny thing that he started doing a few months ago is sitting on the kitchen table, watching the stove and meowing when water starts boiling. that little weirdo thinks he's helping!
the photo above showed the whole batch the next morning. i love how they turned out - notice how smooth they cured! here are the fragrance oils i used, all from candlescience except for sandalwood:
cherries: baby powder
jalapeño peppers: cinnamon candies
pepperoncini: peppermint and eucalpytus
vegenaise: custom mix of sandalwood and fresh-cut grass
artichoke hearts: red sangria
roasted peppers: fall leaves
tin mug: hazelnut coffee,
i'm very surprised at how much i like how this hazelnut coffee tin mug candle came out, but i can never keep it at my desk or on the kitchen table because i may accidentally drink it.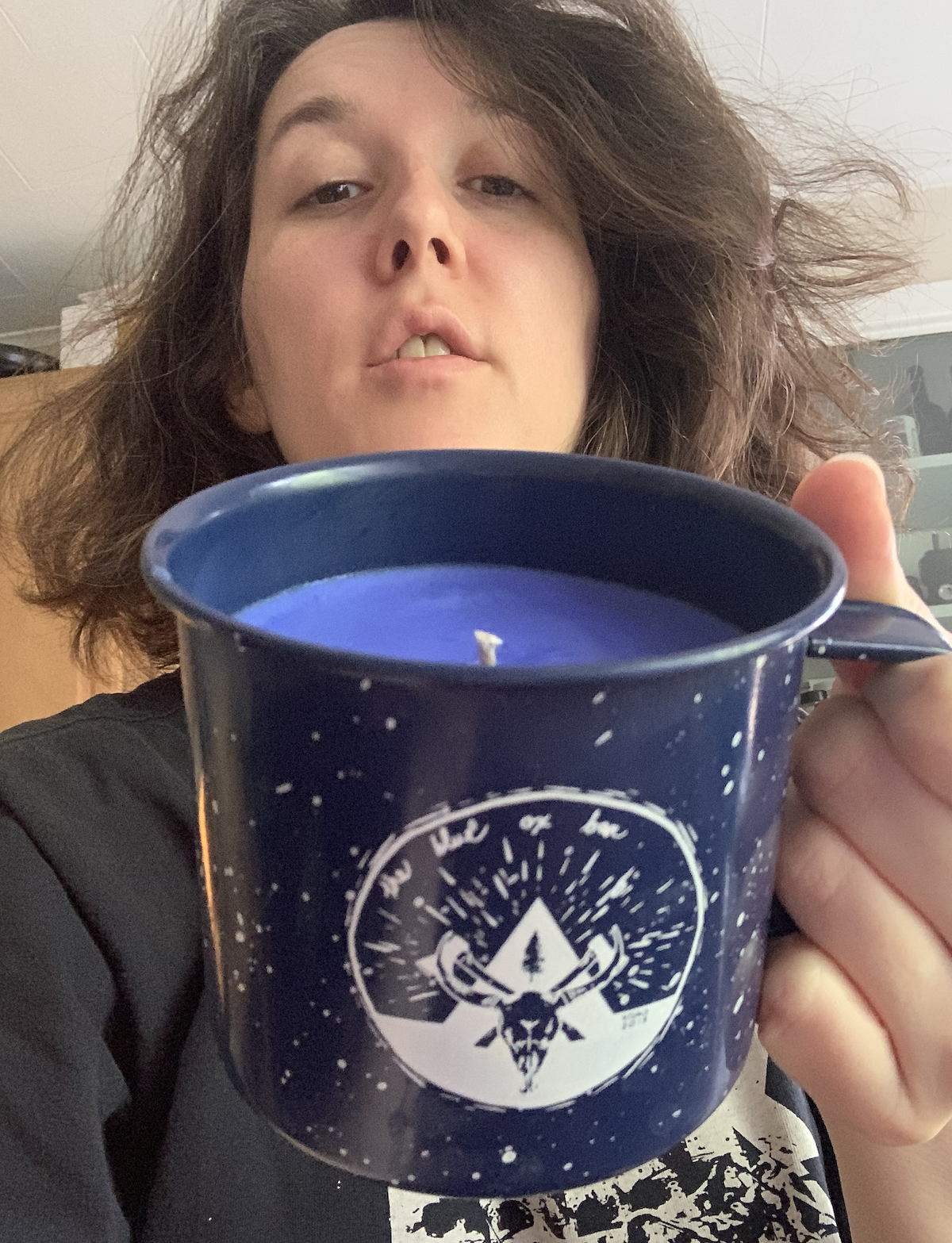 if you're looking for an affordable, peaceful and productive hobby, i highly recommend candle-making. it's a great way to upcycle jars, and they are fun to give out to friends. that's what i'm going to do with this latest batch.
xoxo jenn