arnold palmers for people who are trying to cool it on the sugar
somehow over the last couple of months i ended up living in a whole different apartment! with a 3rd name to add to the crazy straw collection!
while the situation as a whole is an absolute banger of an upgrade, i am still adjusting to having a smaller kitchen. the appliance situation is nice, though. it's our first steel refrigerator and working dishwasher. the dishwasher was such a foreign concept to us that it took me over a month to work up the nerve to use it lol.
andy was craving an arnold palmer (half lemonade, half ice tea, half pro golfer) today, but the ones in the grocery store have way more sugar than we like to consume in a drink, so i decided to make some at home. i followed most of this 'perfect arnold palmer' recipe with just a few changes. for one, i only needed to juice 4 lemons, which is great because my compost bucket was overflowing already and i am too scared of getting struck by lightning to walk it to the collection bin.
instead of 3/4 cup of sugar (which i keep spelling "suger" as i type this, what the hell) i used 1/2 cup of monk fruit sweetener and i only kept it on the heat until it boiled, i didn't boil for 2 minutes. the tea i used was pg tips, which was the right move.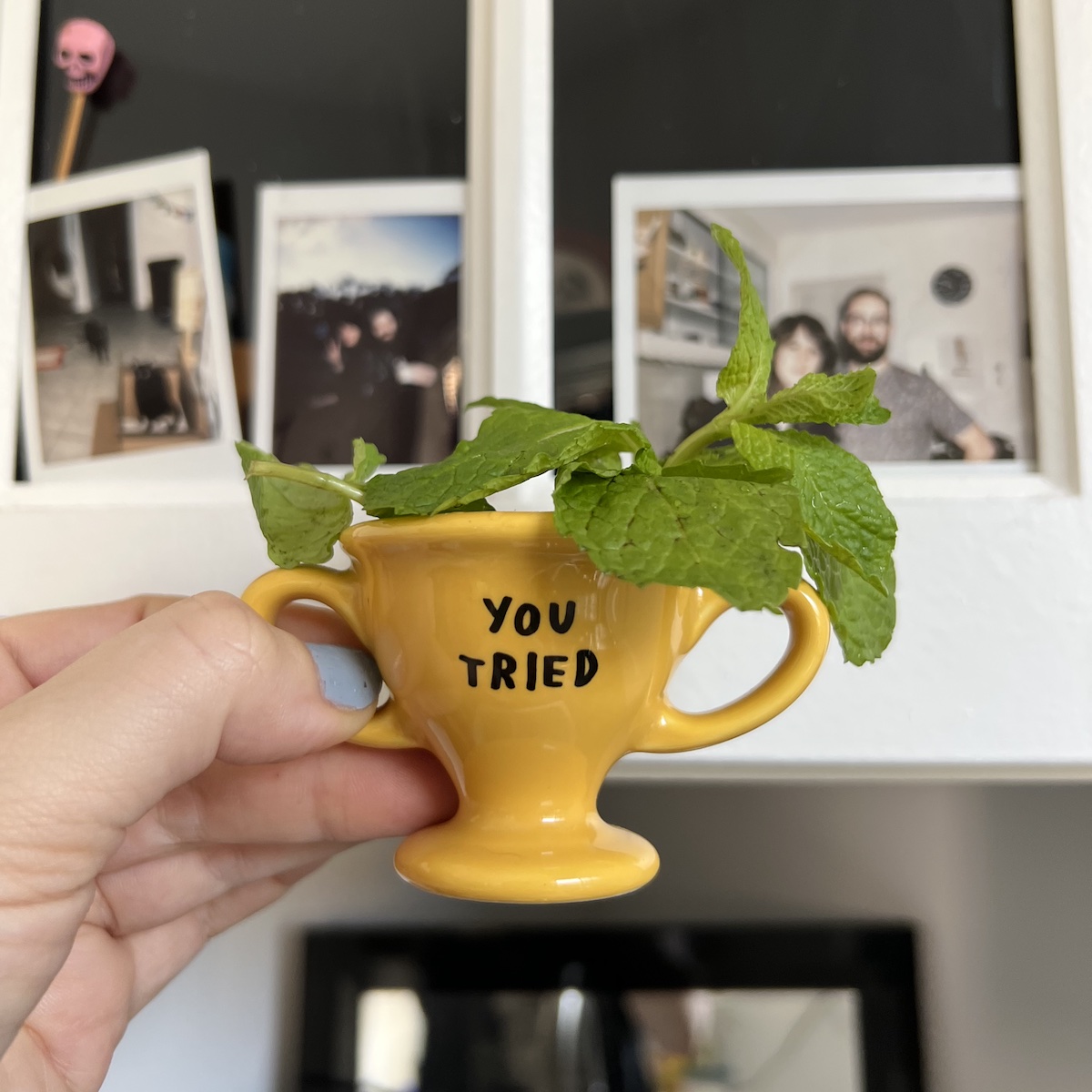 andy told me i should take a photo of my cute mint garnish in my little adamjk egg dish. i'm thinking of hiring him as creative director of live laugh blog industries. i will pay him in exposure and also freshly brewed and squeezed beveraginos.
it's so good and refreshing, and i couldn't imagine enjoying this with 3/4 cups of sugar, even as a sugar fiend. i'd go so far as to say this drink is more of a concentrate; i've been pouring one part tea and one part water and then adding a bunch of ice.
now i have to figure out what to do with all this fucking mint. in the meantime, andy is sending all of the dirty dishes to mount splashmore (i've just decided that's what i'm calling the dishwasher).
xoxo jenn